Literary Translation Workshops 2012
Classes on offer this year:
From Dutch into Indonesian, led by author Gustaaf Peek and translator Widjajanti Dharmowijono.
From Dutch into Indonesian, led by author Gustaaf Peek, translator David Colmer, and translator Anton Kurnia.
From Dutch into Indonesian, led by author Kjersti Annesdatter Skomsvold, translator Kari Dickson, and translator Arif Bagus Prasetyo.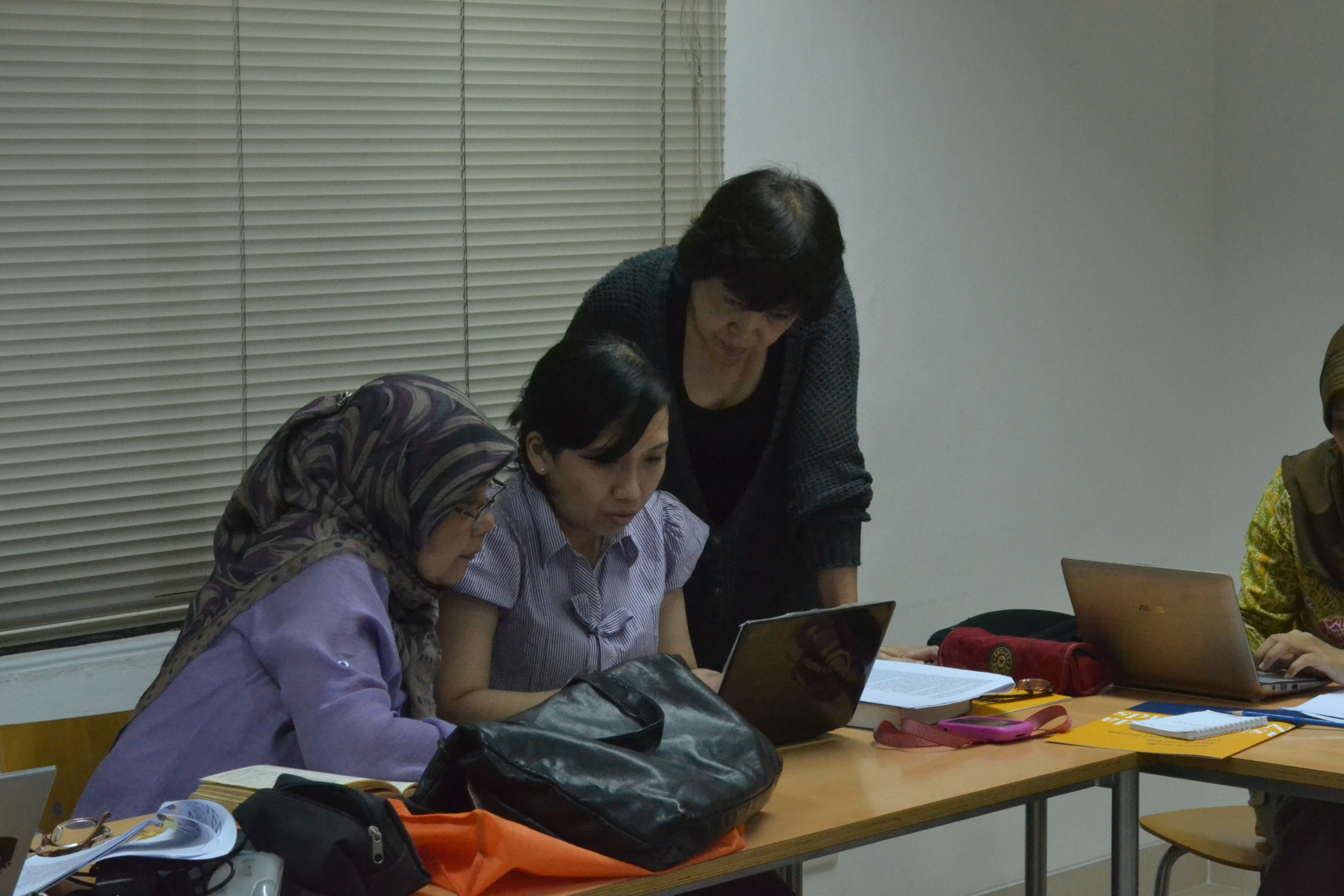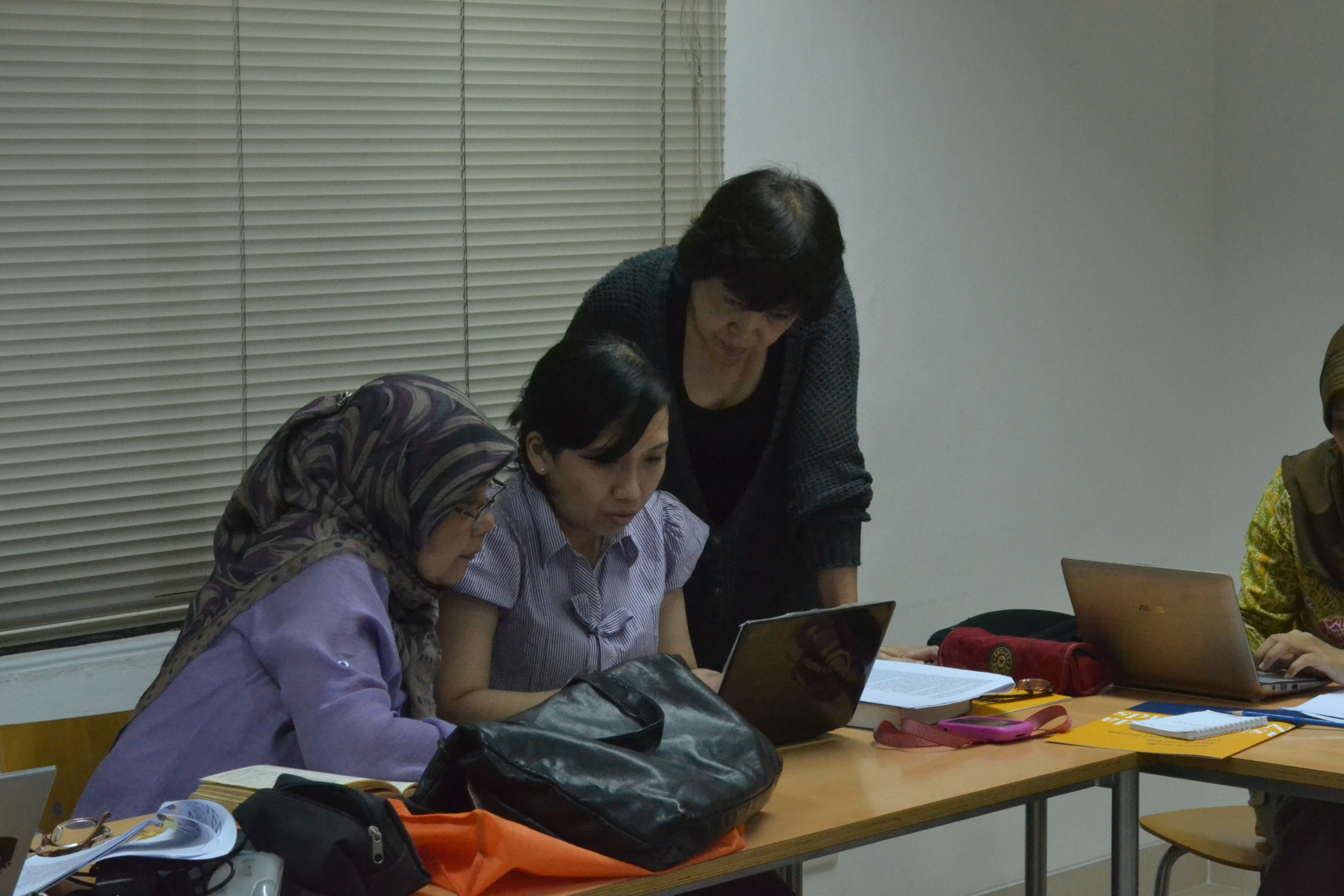 The aim of the workshops was to offer an intensive, one-week program of hands-on translation practice from Dutch and Norwegian into Indonesian, in some vlasses via English as a bridge language. Translating an excerpt of the authors' novels, participants explored methodologies of literary translation as creative writing. The workshop format was based on that of BCLT's International Literary Translation Summer School at University of East Anglia, Norwich, UK.
In many countries including Indonesia, English is used as a bridge language for translation into the target language. Usually this translation is based simply on the English text, without the involvement of the author or the English-language translator. Thus another aim of the workshops was to explore the process of bridge translation and develop guidelines for good practice, which would be applicable in other countries where bridge translation is used.
On 15th May 2012 we sent out a call for applications; interested translators had to submit a sample translation. We also provided transportation and accommodation bursary for workshop participants from outside Jakarta. This year we had participants joining us from Makassar, Bali, Surabaya, Jombang, Yogyakarta, Bandung, Semarang, as well as Jakarta and Bekasi.
Writers-in-Residence and Workshop Leaders
Kjersti Annesdatter Skomsvold is from Oslo, Norway. She made her literary debut in 2009 with the novel Jo fortere jeg går, jo mindre er jeg (The Faster I Walk, The Smaller I Am.) The book was nominated for the Norwegian Book Sellers' Prize and won the Tarjei Vesaas First Book Prize (judged by The Literary Council of The Norwegian Authors' Union). The National Theatre (Oslo) will produce a play based on the novel in 2013. The novel has been translated into 14 languages. Skomsvold studied mathematics and computer science at the University of Oslo and at the University for Science and Technology in Trondheim. Subsequently, she attended the Writers' Class at the Nansen School in Lillehammer and completed studies at the Academy of Writing in Bergen. She has also studied literature at the University of Oslo, and French at Université de Caen, France.
Kari Dickson grew up in Edinburgh, Scotland, but spent most of her summers in Norway with grandparents who couldn't speak English, so spoke Norwegian from an early age. She went on to read Scandinavian Studies at UCL. While working in theatre in London, she was asked to do literal translations of two Ibsen plays, which fuelled her interest in Norwegian literature and led to an MA in Translation at the University of Surrey. Having worked initially as a commercial translator, including some years at the central bank of Norway, she now concentrates solely on literature. Her portfolio includes literary fiction, crime, non-fiction and plays. Her translation of Roslund & Hellström's Three Seconds won the CWA International Dagger in 2011. Kari currently also teaches Norwegian language, literature and translation in the Scandinavian Studies department at the University of Edinburgh.

Arif Bagus Prasetyo is an author, a curator for fine arts, and a translator. He has published six books: Memento (poems, 2009), Mangu Putra: Nature, Culture, Tension (art criticism, 2000), Melampaui Rupa (art criticism, 2001), Stephan Spicher: Eternal Line [on Paper] (art criticism, 2005), Mahasukka (poems, 2000), and Epifenomenon (literary criticism, 2005). He has translated among others Tagore's The Hungry Stones and Other Stories (Batu-batu Lapar, 2002), Borges' History of Infamy (Sejarah Aib, 2006), Julian Barnes's History of the World in Ten and A Half Chapters (Sejarah Dunia dalam 10 1/2 Bab, 2009). He has won the Jakarta Arts Council's Literary Criticism Competition (2007), the Widya Pataka Award from the Bali government (2009), and the CSH poetry award (2009).
Gustaaf Peek studied English and American Literature at Leiden University. He started out as a poet. He is the author of three novels: Armin (2006), Dover (2008), and Ik was Amerika (2010). The latter was awarded the BNG New Literature Prize 2011, and the F. Bordewijk Prize 2012. He writes about literature and art for various magazines and newspapers. He lives in Amsterdam.
David Colmer is an Australian writer and translator, who lives in Amsterdam. He translates novels, poetry and children's literature and has won several awards, including the NSW Premier's Translation Prize for his body of work and the IMPAC Dublin Award (with author Gerbrand Bakker). Most recently, he has been shortlisted for the 2011 Popescu Prize for Heavenly Life, a collection of poetry by Ramsey Nasr, the Dutch poet laureate. Forthcoming books include new novels by Dimitri Verhulst and Gerbrand Bakker, poetry by Cees Nooteboom and – in English at last – Annie M.G. Schmidt's Tow-Truck Pluck ("Pluk van de Petteflet").
Widjajanti Dharmowijono studied Germaanse Filologie at K.U. Leuven, Belgium, and holds a doctorate in Dutch literature from Universiteit van Amsterdam. She translates Dutch literature into Indonesian, among others the works of Alfred Birney, Arthur Japin, and Hella S. Haasse. She is also the chair of the Dutch language program at Akademi Bahasa 17 Agustus 1945, Semarang. Currently she is translating her dissertation on stereotyping and representation in Indies-Dutch literary prose.
Anton Kurnia has translated about forty books, including The Book of Saladin (2006), Lolita (2008), Haroun and the Sea of Stories (2011). He is also the author of Insomnia (stories, 2004), Ensiklopedia Sastra Dunia (2006). Currently Anton is also the managing editor of Serambi publishing houses in Bandung, West Java.